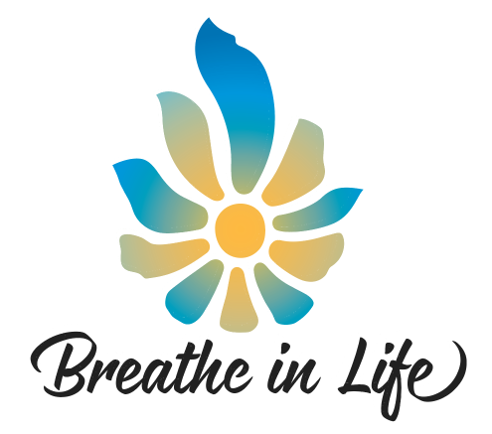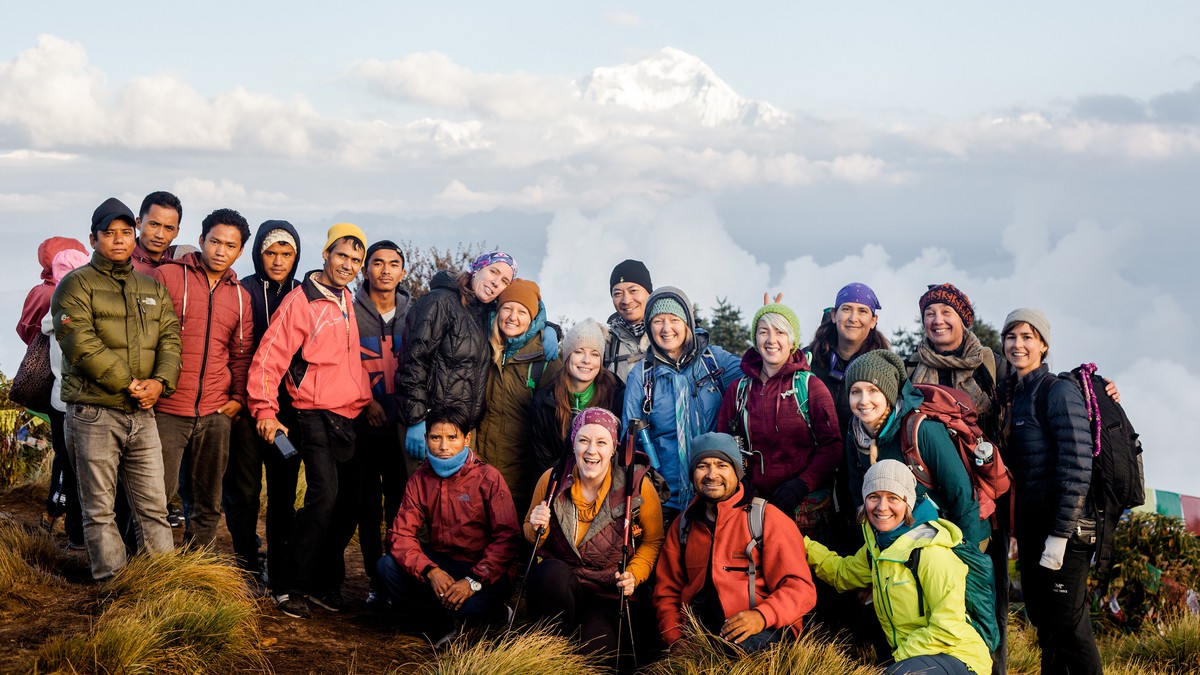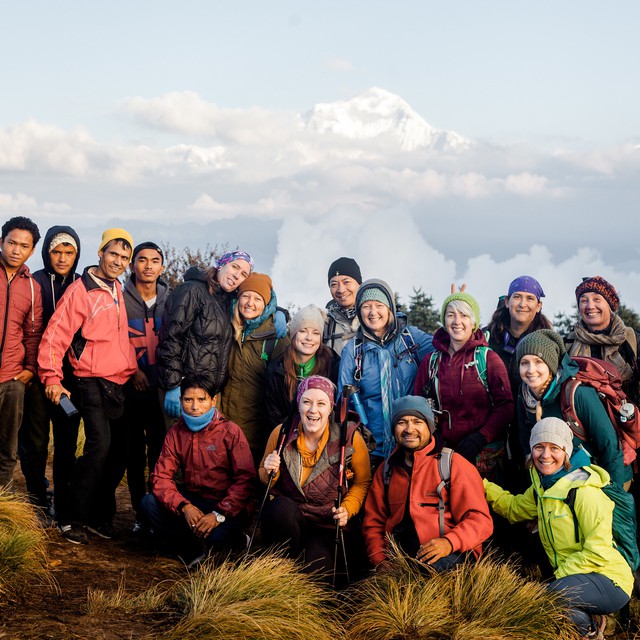 Spirit of Nepal
Experience the beauty, culture and history of Nepal. This unique 20 day trip will take you on an incredible journey through the diversity of Nepal. Hike in the Himalayas, walk temples at dawn, spend time in ancient cities, swim or paddle in a serene lake and practice both yoga and meditation.

Join Kat Boehm as she returns to Nepal. Come and sip chai, walk around Stupas, eat new food, watch sunsets and sunrises, plus meet some of the kindest people on streets and trails that Nepal is known for.

This trip will ebb and flow through the city life of Boudhanath, the anciemt sites of Bhaktapur, and to the immense and wonder of high mountains, trails and teahouses. Combining the natural world with urban life to leave your spirit nourished, body refreshed and mind enlightened.
WE TRAVEL CONSCIOUSLY
Breathe in Life travel was created to combine adventure, wellness and culture in every trip. Our intention for group travel is to empower community, respect Mother Nature and provide extraordinary personal experiences. We take pride in our commitment to hire locally and compensate fairly - from guides, guesthouses, foundations and drivers - we choose intimate connections, ensuring meaningful and specialized attention. Showcasing local producers and grassroots organizations is an essential aspect of each trip. Our goal is to emphasize shopping carefully, supporting locally made goods. Nature is the backdrop of all our trips, and we feel a significant responsibility to minimize our footprint while visiting a country. An important step in this endeavour: have safe drinking water available at all accommodations refraining from the need to buy plastic water bottles. Every adventure has been researched by our team to provide you with a unique and memorable trip. Our group travel pledge is to be considerate and respectful with one another while creating our travel family. Your Breathe in Life team aspires to accommodate all your individual requests and specific needs, allowing you to feel safe, supported and fulfilled on your excursion.

Travel expands our view of the world plus challenges us in various ways. It truly is a growing and thrilling experience to leave the comforts of home behind and dive deep into different cultures. We recognize that it is a privilege to have adequate time and resources to travel. Thank-you for choosing Breathe in Life - celebrating diversity, wonder and a conscientiousness approach to world explorations with us!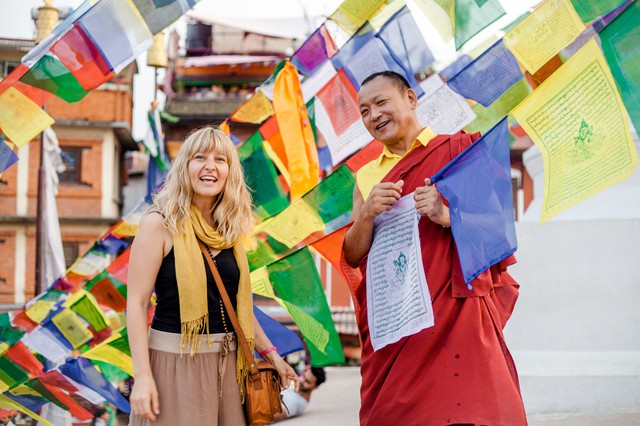 Itinerary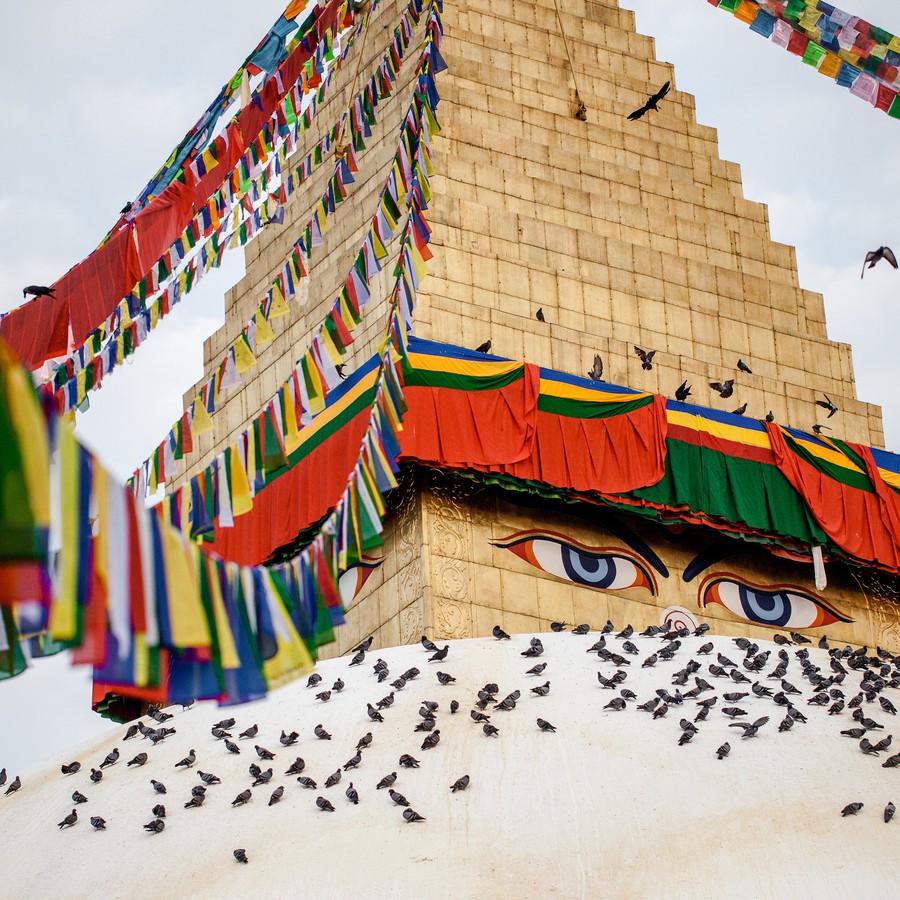 More Information
Your Group - Nepal

Groups will range in size from 8-14 people with a wide age range of anywhere from 18 up. We want everyone to feel welcome coming on a Breathe in Life trip. Regardless of the group demographic everyone has something in common right off the bat, you are all here to experience what amazing things Nepal has to offer!

Trip Leaders/Yoga Instructors - Nepal

All of our trip leaders and yoga instructors at Breathe in Life were chosen because of their passion for life, health, and love for what they do. Our trip leaders are extremely knowledgeable on the places that we go and are there to make sure your trip is as amazing as it can be. All of our yoga instructors come highly experienced and fully certified by the Yoga Alliance.

Accommodation - Nepal

We have selected accommodations which are well run and comfortable, with good food and friendly, helpful staff. The accommodations range from very basic during the trek and in Boudhanath, to more luxurious in Pokhara and Bhaktapur.

Food - Nepal

The main diet for the average Nepali is Dhal Bhat, a plate of lentils, rice, and curried vegetables, it can be eaten twice a day and a main trekking staple! The influence from Tibetans has brought, Momos, a dumpling filled with, either meat or vegetables, as well as noodle soups.
Most menus will be a combination of Indian curries, served with rice or chapatis, Tibetan food & Western Food – pizza, breakfasts & fresh juices. Chai is drank at anytime of day, and there are plenty of cold soft drinks available. Both Kathmandu and Pokhara have excellent restaurants to explore and satisfy any craving that may arise!!

People - Nepal

Nepal has a wide variety of culture, racial backgrounds and languages within the relatively small country. Generally, it is said that Nepal has three main ethnic groups: Indo-Nepalse, Tibeto-Nepalese and ingenious Nepalese. With this, one will see Hindus, Buddhists and many different culture backgrounds within the mountains ranges. The diversity of culture is what makes Nepal such a special country to visit, as you will experience and witness many different customs, dress and geography while exploring the region.
The Nepalese have a reputation for being extremely friendly, kind and welcoming.

Climate - Nepal

March and April/ spring in Nepal are considered some of the best months to visit, as the views in the mountains are stunning and clear and the day temperatures are usually moderate. You can expect day time temperatures to be anywhere from 18-27 C, and night time can be more chilly with a low of 5-15 C. The weather in the mountains can be unpredictable, and cooler. The weather has been abnormal globally so please check the weather forecast as the departure date gets closer.

What to bring - Nepal

We recommend bringing a backpack about 50-70 liters in size. Suitcases tend to be difficult to lug around. Although your trip may seem like a long time our best packing advice to you is to bring about half of what you plan to or just the essentials. Less is more when packing as you will want to have room for the awesome treasures you will find along the way. Laundry is available in almost all of the destinations we visit and if you forget something important you can most likely find everything once you arrive in Nepal. We will send out a detailed packing list along with a trip guidebook

Money & Tipping - Nepal

Although not a Nepalese custom, tipping has become common with the increase in tourism throughout the years. A 10% tip on your bill goes a long way for your server and will definitely put a smile on their face.

Solo Travelers - Nepal

Not a problem at all! We have many travelers who will come solo on our trips and the casual group setting is a great environment to meet new like-minded people. When you are on a Breathe in Life trip, you are always among friends! As far as your accommodations go you have two choices. We can pair you with another solo traveler of the same sex in a double room or you can request your own room for a reasonable surcharge.

Extending your Trip - Nepal

Sometimes when 20 days just isn't enough time you may want to extend your return flight back to reality. Each airline has different rules in changing flights but generally this can be arranged for a reasonable fee. We will be happy to assist you with this and support your new dreams to become a Himalayan mountain climber! E-mail us at info@breatheinlife.com to inquire about a flight.

Digital Detox - Nepal

On this journey we ask that you try to refrain from using electronic connecting devices such as smartphones and computers. It is an opportunity to reduce stress, anxiety, tech dependency, fatigue, depression, information overload, and more. Given the space to unplug from the noisy world, we are able to reevaluate our path, take stock in life, strengthen our relationships, and move forward with a sense of purpose and belonging.