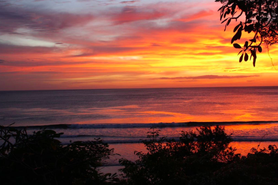 Come join us on a journey of culture, pristine lands, and waters in a beautiful setting to explore the depths within. Experience Nicaragua. Experience one's self. This 9-day trip will take you on an inner voyage catered to the weaving together of body, mind and soul. Enjoy daily yoga, meditation, a multitude of workshops, and creative opportunities in a safe and supportive environment. Take time to reroot yourself and attune your being to the true essence of who you are. With epic coastal views as our backdrop, we will be sharing space with a group of incredible women where it is safe to explore, create, learn and love. Spend your days delving into whatever it is that makes you feel alive during that given moment. Whether that means waking up with the sun, a late afternoon siesta, visiting a local turtle sanctuary, surfing the day away, or enjoying a bonfire on the beach under the stars.
Why Breathe in Life?
We are about enriching your life through exploration, education, nutrition and body work. We offer a wide variety of activities because we understand that to some an inspiring journey is rafting,trekking, and safaris, while others prefer meditation, yoga and body work. And some enjoy a mix. Our aim is to set the stage for your dream trip, let us take you where you want to go.
more ▶